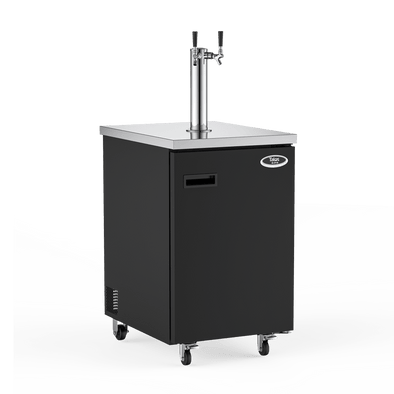 Talos kegerator, large box cold storage,meet more beer sales required. The integrated design perfectly integrates components such as draft beer dispenser, freezer and column tower, matches different brand styles,and creates a perfect terminal distribution solution.
FEATURES
- Equipped with high-quality compressor, strong refrigeration, good refrigeration effect and low energy consumption
- Constant temperature liquor output can improve the freshness of beer and reduce waste and dripping
- Anti rust galvanized sheet material, laser cutting process, precise three-dimensional appearance; Frosted black electrostatic plastic spraying, convenient for cleaning and lasting
- The air cooler includes 2/4/6/8/11/15 barrels of different specifications, which can meet the needs of different places
- Three sides can be disassembled, which is more convenient for maintenance; Four side ventilation, better air fluidity, faster heat dissipation, and effectively improve refrigeration performance
- Rebound function, more convenient to use; Configure safety lock to prevent outsiders from changing barrels
- Equipped with universal wheels, easy to move, suitable for all indoor and outdoor scenes
- Equipped with refrigerant R134a, it is more environmentally friendly
WARRANTY
Talos warranty period: three (3) years for parts and labor,
Five (5) years for compressor (parts only).